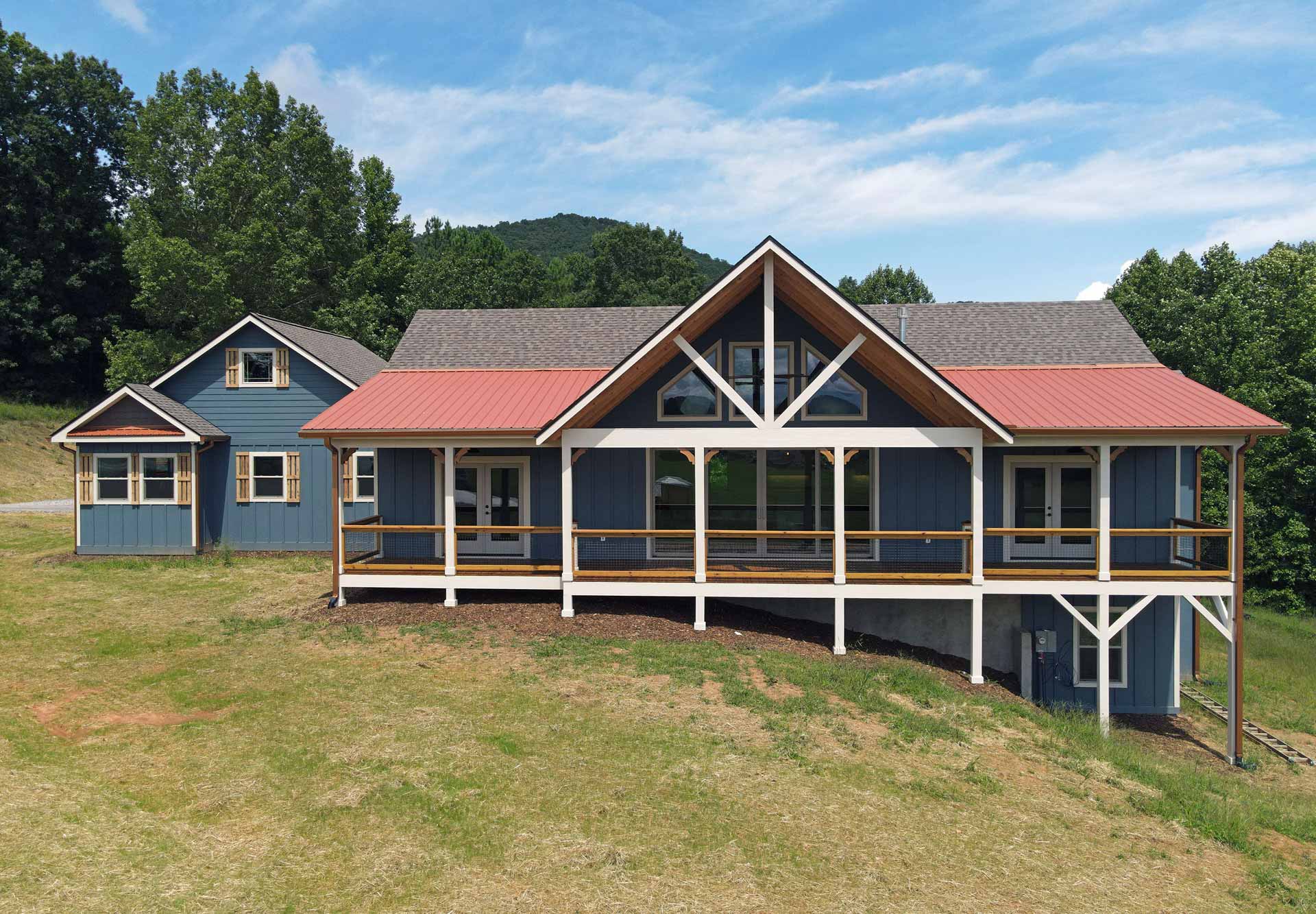 Working with Solomon Patrick and his crew at Patrick Construction, Inc. was an awesome experience. From the inception of turning my dream into a reality Solomon guided me thru the entire process of building my bungalow in the mountains. Design, build, finishing, and landscaping are all part of the service. They were able to take my vision and turn it into the most beautiful interior with craftsman detailing and built-ins. They honored all of my style and gave me great advice that let me stay mostly in budget. Last but not least they were able to complete the project early!! I can't say enough about working with the people at this great company.
– Maureen W.
This was our first time building a house, and it just happened to coincide with a pandemic and a need to build from afar! We had designed a passive solar house that emphasized green building alternatives wherever possible. We were very fortunate to find Solomon and his crew, particularly James, the foreman on our project. They have been very accommodating and transparent in their communications with us. We developed a great deal of trust and confidence in them which made building remotely much easier. Solomon created a very detailed estimate and helped us stay within that budget. We did exceed our budget in a few areas, but that was because we chose to add features that weren't on our original design. Solomon and James were very good about pointing out options that either saved us money or improved the final product, but never pushed us to accept their recommendations. They were very focused on helping us build the house of our dreams. Noah, their cabinet maker, spent a lot of time with us discussing options, making suggestions, and listening to our concerns. He then built beautiful cabinets that are exactly what we were looking for. As with any building project, there were hiccups along the way that had to be addressed, but Solomon and James were responsive and worked hard to find solutions that worked for us. With COVID impacting availability of most appliances, James spent hours talking to different suppliers and outlets and to us to find the types of appliances we wanted. We wanted a timberframe house, and had been planning one with Jeff Johnson Timber Framers for several years. Solomon worked closely with Jeff and our architect to make sure everything was ready for the timberframe to be delivered and installed, and then consulted with Jeff to make sure it was finished the way we wanted. All of his subcontractors did a great job and were very well supervised. From start to finish, this was an excellent experience for us and we would recommend (and in fact already have recommended) Patrick Construction to anyone interested in building an excellent, green home!
– Gary C.
Great company, very responsive to needs and change requests.Would like to use them in the future for next home. 
– J.M. 
"We hired Patrick Construction after a neighbor highly recommended Solomon Patrick and his crew.  PC had done a beautiful job building their house, and we were impressed.  Solomon sat down with us and designed a house for us with everything we ever dreamed of.  Then, we had a price check and saw we wanted the moon and more, so Solomon helped us tone it down a little to something we love and can afford.  His team started early, and has worked through all kinds of weather, and everything theyve done is rock solid and done right.  Everyone  is friendly and polite, and really wants to please us.  It's a great Christian construction team, and we're very happy. "
– Dennis M.
We wanted to say Thank You so much for all the time and hard work you put into our home. We will be forever grateful and are truly blessed to have met you and become friends with such a great group of people.
– Bill & Diane L.
If you are looking to build a house, this is the company to call. Professional, honest, and great people. We have worked with Solomon Patrick on several homes and its always a pleasure!
– Murphy Granite Outlet 
"We feel very fortunate indeed to have found Patrick Construction to build our dream home in the Northern Georgia mountains.  From the moment we met owner Solomon Patrick and his project manager James Raines we knew we had the right group.  Solomon was even instrumental in helping us find the prefect piece of property on which to build.  As we did not live in the area and were only there to visit every other month, we were extremely happy to find such an honest contactor who stood by his work and met our every desire.  If something wasn't up to Solomon's standards it was re-done until it met his, and our, satisfaction.  He kept us informed on every step of the building process and was easy to communicate with and get in touch when we needed.  Although we did not have many 'changes' from our original plans, we did have many 'add ons'.  Solomon and his crew were more than happy to make these additions so that we would end up with just what we wanted.  We are thrilled with our new home.  Everything is very professionally done and looks beautiful.  
We very highly recommend Patrick Construction.  They are honest, trustworthy and just nice folks.  The Patrick Construction crew was also absolutely a wonderful group of people.  You will not be disappointed at all if you choose Solomon Patrick to be your contractor; you will be  exceedingly happy.
– Howard S 
I'd engaged Patrick Construction to build a custom lake home. The process went very smoothly. The team at Patrick Construction are great group of men that I felt very comfortable trusting. Although the project was designed by an architect, Solomon provided great insight regarding ideas throughout the build. We routinely discussed the budget and had no surprises. I highly recommend.
– Jim L.
Patrick Construction is building our retirement home in Blairsville. We are extremely pleased with the professional demeanor, the quality of his team members, the ease of working through all the steps of building a home. I can't recommend this company highly enough 5+++++.
– Louise F.
We hired Patrick Construction to build our dream home.  Mr. Patrick and his crew are the best we've ever worked with. Solomon Patrick was professional, knowledgeable and extremely easy to work with.  His crew was first class and able to do very customized work such as old world plaster and hand hewn beams.  The project went smoothly, all deadlines were met and we were able to stay within budget.  Mr. Patrick worked with us every step of the way, being patient, giving good counsel and returning all phone calls promptly.  Patrick Construction is a 5 star company and we highly recommend them to anyone wishing to build.
– Bruderdog
Solomon and crew are rebuilding our generational family cabin that my Father and Uncle bought 54 years ago. I cannot emphasize enough the quality, detail, and professionalism of Solomon and his crew.
Superior Builder!
– Dan A. 
I absolutely loved having the Patrick team build my house! I've never done this before, and as a single woman had some trepidation about the whole project. However, I found the team to be very professional and easy to communicate with. I love my house and still love it four years in (2016)! The whole process turned out to be easy (for me anyway), and it was an altogether an exciting and pleasant experience. Solomon and the building crew went above and beyond to make it truly a house that suits me, making suggestions that I had never thought of.
– Igjones31